Looking to rent a
dumpster


or get a

demolition

quote?
We can help!

Chets disposal provides affordable
dumpsters/roll-off containers, waste removal
and demolition services in Springfield MA.

I'm looking to: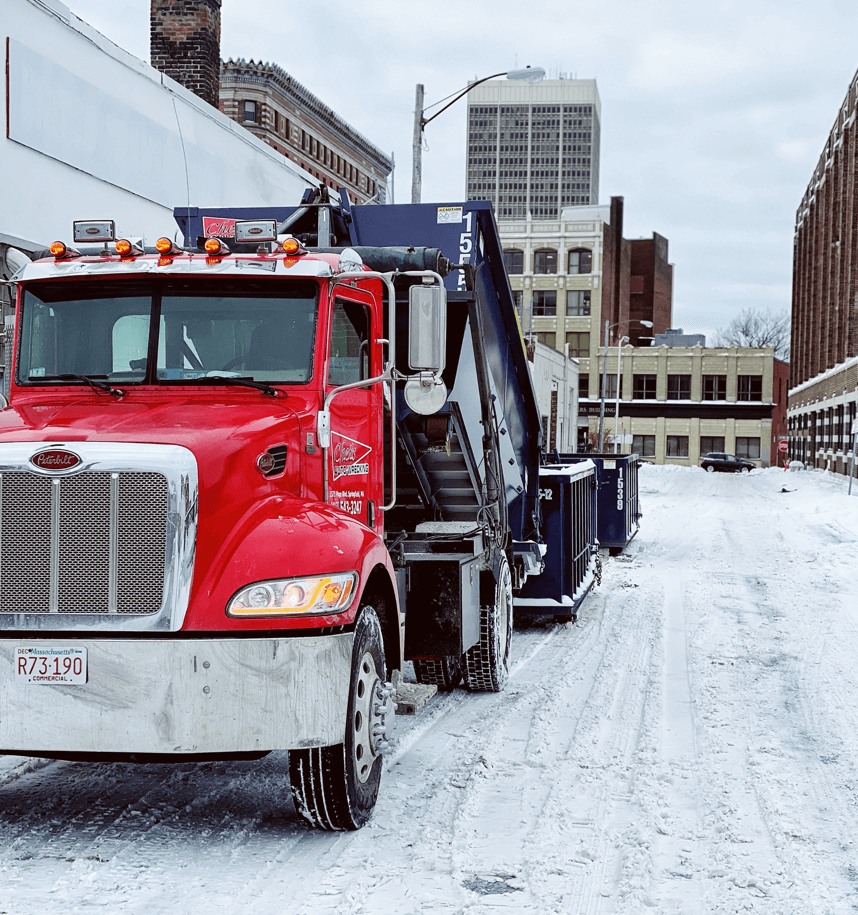 "Pleasant company to work with. Quick dumpster delivery
as promised. Will definitely use Chet's Disposal again. Thank you."

Kristina M
Dumpsters Roll-Off Containers
Chet's Disposal is the company to call if you want to remove waste quickly and efficiently. We offer all sizes of dumpsters, and there's no limit to the amount we can get to your property. You can schedule the delivery of dumpster months in advance or even the day before! We've been in the area for quite a while now and as a result, have acquired a borderline ridiculous amount of dumpsters. However many you need, whenever you need them, we're your one stop!
Rent A Dumpster
Demolition
The Chet's Disposal team specializes in demolition on every level. Whether it's one wall in your bathroom or an entire building in downtown, our team can do it. Being a large company has its perks, and in turn, we have our toys. Our team has every machine you can think of that can be used to safely, cleanly, and quickly bring down a structure. And as you probably guessed, we have plenty of dumpsters to take it all away! We offer extremely competitive pricing and don't take too many breaks. We'll be in and out so fast you'll be left wondering how an entire wall disappeared in just a few hours!
Get A Free Quote
Testimonials
Maxim
Home Owner
Chet's came through for us! Had to clean out a backyard full of junk. Would have taken us a few days to clean it out. Chet's got it done within an afternoon and for a great price. Highly recommended. Thank you for your services :).
October 2, 2014
Phillip M.
Property Manager
Thank you for the professionalism your company showed in the demolition process. It was a pleasure doing business with your company and I appreciate the job well done for our property.
October 2, 2014
Susan Peabody
Home Owner
Pleasant company to work with. Quick dumpster delivery as promised. Will definitely use Chet's Disposal again. Thank you.
October 2, 2014
Today, Springfield is a vibrant city with great nightlife and a casino. However, what makes Springfield unique is its mark on history through innovations. Founded in 1636 as a northern Connecticut colony, Springfield defected to Massachusetts and made a name for itself. In 1777 and 1968, the Springfield Armory manufactured muskets, small arms and other weapons. In fact, the first American muskets were manufactured in Springfield. The Springfield Armory was opened by George Washington. Later, Springfield would develop the infamous Springfield rifle and M1 Garand and M14s. Consequently, because of the Springfield Armory, Springfield became the epicenter for precision manufacturing.
Beyond weaponry, Springfield is well known for other inventions. Springfield is nicknamed The City of Firsts. Many of Springfield's commercial and industrial innovations were derived from the Springfield Armory. For example, in 1819, an inventor developed the first ever use of interchangeable parts in mass production, making weaponry production cheaper and more efficient. Further, the first American English dictionary was written in Springfield in 1805 by Noah Webster. In addition, basketball – the third most popular Sport in the world – was also invented in Springfield in 1891 by James Naismith.
Chet's Disposal continues to honor Springfield and its citizens. Chet's Disposal works tirelessly in Springfield, Massachusetts to inspire that innovation and creativity Springfield is known for. Roll Off Dumpster Rental in Springfield, Massachusetts is about more than a quick project or clean up: it's about transforming a space and breathing new life to a residential or commercial property. Dumper Rental in Springfield, Massachusetts is easy through Chet's Disposal's quick and effective service. For any project, there is only one place in Massachusetts for dumpster rentals: Chet's Disposal!