Dumpster rental Springfield in MA is necessary for construction projects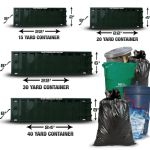 The necessity of a dumpster cannot be overemphasized; this is a facility that is needed in every community.Therefore arrangements have to be made to hold it temporary before it is shipped in dumping sites. The fact that the waste accumulates gradually, means that it would not make a lot of sense to have it shipped everyday. It would turn out to be a very expensive and time consuming venture.nity and household. Every day we generate some waste, some of which cannot be recycled, or reused.
This means that dumpster come in handy as far as keeping our compounds clean is concerned. They hold the waste generated in our homes temporarily before the shipping arrangements are made. Whether you are carrying out small or large remodeling activities in your compound, you will at one point have to consider how the waste which will be generated in the process be disposed.
Given that waste disposal is a requirement for anyone carrying out such an activity, one will have to approach a dumpster rental Springfield MA to help in this process. A dumpster service provider will avail the container which will hold off the waste materials and also help in its removal. The container which will be availed will mostly be determined by your needs, it is important to note that the price of the dumpster will be determined by the size of the container that you will order.
Therefore establish the amount of waste which will be generated as well as the duration which it will be held. The kind of waste generated will influence the time which the container will stay before it is emptied, if it waste which disposes quickly, quick disposal will be necessary to avoid bad smells. Therefore think about all these issues as you embark on hiring this equipment.
---
---